Optimise, convert, diversify, reduce greenhouse gas emissions and the list goes on.
The international trade of wood pellets has increased yearly for over ten years thanks to growing demand in Europe and Asia.
The wood pellets global market was evaluated US$11.6 billions in 2020.
About his CAGR for the next ten years there is a gap of few % point between the various research institutions and systems (TMR, Research & Market, Bioenergy Europe, etc.) ranging from 8 to 15 per cent. But the most credible is around an attractive 11%. What the data anyway seem to agree on is the global volume of production, which is expected to reach between 29 and 31 billion dollars in 2030.
How? That's soon said.
Growing Applications
Wood pellets have emerged as a valuable and promising renewable energy source to replace coal, especially in Europe and North America. In recent years, the pellet market has shown tremendous growth worldwide, with increased demand for both industrial applications in large-scale power plants and small-scale applications in residential heating systems.
Regulation supporting Development
Laws, regulations, and economic incentives have long supported the adoption of systems to replace fossil fuels, and every analysis confirms the trend for the coming years. Governments of several countries and global organisations are constantly taking measures to achieve greenhouse gas emission reduction targets. Austria, for example, has set a target of achieving 100% renewable electricity by 2030. France has committed to reducing its greenhouse gas emissions and becoming 'carbon neutral' by 2050, in line with the 2015 Paris Climate Agreement.
Segments and Regions Development

The use of wood pellets as fuel has been widely adopted for home heating and electric boilers, especially in the European region. The growth in market share of the residential segment will be significant, without, however, significantly increasing carbon emissions.
The European region is the largest consumer and producer of wood pellets and is estimated to contribute 73% of the global market growth over the next 5 to 6 years, with the UK, Italy, Germany, Denmark, Sweden, France and Belgium as the main contributors to sales.
Alternative Raw Material
The growing number of pellet plants is heavily dependent on the use of sawmill waste as a raw material and the lack of sawdust and wood chips is a challenge for manufacturers and suppliers.
Industry players are therefore sourcing other types of alternative wood raw materials, including industrial wood, bark, and chips from sawmills, to increase the production of residential and industrial pellets.
Furthermore, to increase the credibility of the system from an economic and circular perspective, producers in the wood pellet market avoid felling trees and focus on trees dead or damaged by fire. To mention an Italian example close to us, see the use of trees killed by Bark Beetle, the small beetle sadly known in the forests of Veneto and Trentino regions, which spread epidemically after the 'Vaia storm'.
Thanks to ongoing in-depth research, the availability of 'engineered pellets' – wood pellets with a high calorific value – that have a uniform size and moisture content and can be burned cleanly in specially designed automatic pellet kilns is increasing.
Technological Development
Thus, innovations in wood pellet boilers are acting as key drivers for stakeholders. Manufacturers, for example, are increasing the availability of self-cleaning systems in boilers that require minimal user involvement – although the heat exchanger must often be brushed to achieve maximum efficiency – raising awareness of the ecological benefits and cost-effectiveness of wood pellets to increase sales.
As the initial cost of boiler systems can be relatively high compared to traditional gas boilers, companies in the wood pellet market are also distributing information on subsidies for biomass boilers to help customers support the investment.
Production Development
In cold areas where room heating and water heating is a constant requirement, manufacturers are increasing their production capacities to deliver a year-round supply of wood pellets, irrespective of seasonal changes. Industrial stakeholders are preferring consistent quality in pellets to ensure consistent heating in burner applications.
Through these processes of engineering, optimising production, and communicating ecological and economic benefits to the end consumer, wood pellets are increasingly replacing LPG (liquid petroleum gas) for heating.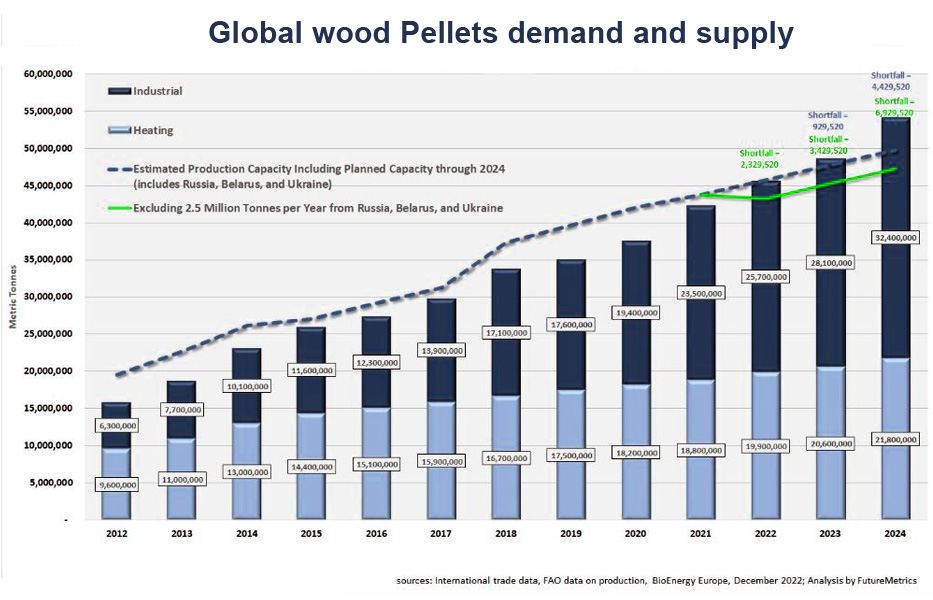 Brazilian companies, such as HAAS Madeira, are conducting important projects to increase the global use of sustainable bioenergy involving Brazilian Eucalyptus wood pellets, which can meet the growing demand for electricity and heating. Brazil is offering very interesting opportunities with the commercialization of eucalyptus wood pellets owing to its advantage of abundant sustainable biomass. Manufactures are increasing research to develop patented and certified processes that separate the chlorine from Brazilian eucalyptus leaves and trees. They are focusing on industrial-scale procedures that involve mincing and grinding the biomass to smaller size to make the wood pellets safe for users and the international markets.
Wide-range national Development
In the last months of 2022, the price has risen due to the international crisis over the war in Ukraine, which has had repercussions in various economic sectors included the cost of transport. But the shortage of the material also contributed to a large extent to the price rise, considering that this country is certainly not among the largest producers of pellets.
Only 450,000 tonnes per year are produced in Italy (mostly in Lombardy, Veneto, Friuli Venezia Giulia and Trentino Alto Adige) out of about 3.3 million tonnes per year burned. Basically, this means that Italy import about 85% of it from Slovakia, the Czech Republic, Austria, and Croatia.
Italy, even with a limited production, is the largest consumer of pellets for domestic use. However, looking across the border, our consumption represents about 15% of the world market in the domestic sector, or 6% if we also include the market for pellets for industrial use.
A further incentive to start increasing consumption in the domestic market is undoubtedly the recent fall in prices. The progressive reduction – noted by the Italian Agroforestry Energy Association – is mainly the result of the lowering of the VAT rate from 22% to 10% introduced by the Budget Law 2023.
In addition, producers' fear of not selling their product and the reduction in the price of natural gas, which has returned to its pre-war level, also played a role. Many wholesalers with warehouses full of goods purchased at very high prices find themselves selling off goods convinced that they cannot recover what they have invested.
Among raw materials, energy and labour, the cost of wood is the biggest concern for producers. And in this regard, it is reported that the price of wood has fallen in recent months after increases in recent months.
In the End
– and to assess how tangible the growth in demand for wood pellets and thus the investment in a production plant will be – it is worth noting how the end user is also stimulated financially. To support the conversion of fossil fuel systems to biomass heating and power generation plants, several Italian Regions have launched calls to cover expenses. The Veneto Region, to name just one, recently launched the new "Call for Stoves" in the amount of EUR 4 million, thanks to which it is possible to cover up to 100% of the costs of switching to a biomass system.